A Recollection of 2012 Charleston's Women's Show
Hosted at the Omar Shrine Temple Convention Center, Mt. Pleasant, SC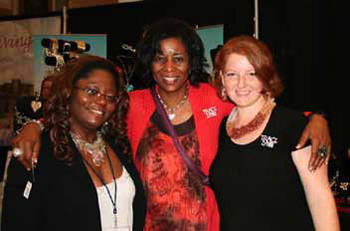 The word went out to the Lowcountry through print, radio and television ads, word-of-mouth and business-to-business relationships. The buzz was underway for the first annual Charleston's Women's Show, held March 3 and March 4 at the Omar Shrine Convention Center in Mount Pleasant.
Sponsored by Mount Pleasant Magazine and other notables such as the Center for Women and Carolina Hormone and Health Center of Charleston (formerly HRC Medical), the show inside was a success despite high winds and heavy precipitation outside.
"Apparently, it's raining outside," said Kay Deman, a shopper who had her teeth whitened at the Lowcountry Plastic Surgery booth. "The Omar Shrine is a better place to be than out there in the rain. My teeth are a little sensitive, but I can already see a difference. Charleston's Women's Show is just a day out and about. Now that I got my teeth whitened and a bit of shopping done, I'm just chillin'."
Smiles were definitely a bit brighter, not only a result of on-site whitening but also because Charleston's Women's Show was a fun place to be. Over the course of the weekend, attendees were treated to three fashion shows, delightful performances by the Tapio School of Dance and the products and services of 67 vendors and sponsors.
"The best thing about a show like this is that women who don't necessarily get out as much can come here and learn that these companies and organizations exist," said Susan Sloate, a local author at the Bella Forza Studios booth. "If the guests aren't at a booth that necessarily interests them, they may ask for what they are looking for and will find what they need."
Jewelry and flowers were flowing for attendees and for the winners of the Lowcountry Women's Extreme Makeover Contest.
Erika Figueroa, who lives in Goose Creek, was the grand winner and drove twice a week to the Black Bean Co. for her breakfast and lunch – and sometimes dinner. In addition to prizes from the Lowcountry Plastic Surgery Center- Lowcountry Beauty & Wellness Spa, she also received 30 days with Accurate Chiropractic to help her deal with the aches and pains that came along with her workout at Coastal Body Studio.
On stage, Erika delivered a poignant speech of appreciation, inspiring women who want to lose weight and restart their own lives: "The journey of 1,000 miles starts with a single step."
Tanya Vanderhoof was on hand to support her long-time friend, Shannon Love, who was a runner-up in the contest.
"It took 22 years to get [Shannon] to cut her hair, and it looks amazing this short, and it's all because of Kim," said Tanya, referring to the hair and makeup makeover Shannon received from Vanity Salon owner Kim Coleman. "This makeover has been a big ego boost for her; for years she had the same straight, drabby hair. She has lost 22 pounds with the diet, and she looks fabulous."
Overall, 1,500 people came out to witness the fun and splurge on everything from handbags to jewelry to kayak adventures. Local vendors and those from throughout the Carolinas were on hand to sell their wares.
Seventy-something Alethia Wragg, who came with her family, was on hand to speak during a special seminar about her relationship with Carolina Hormone and Health Center of Charleston. She related that after a short time, she found herself rearranging furniture and cleaning her home from top to bottom.
"I've been using the product for three months. The first change I noticed was in my sleep pattern. I was only sleeping for a few hours each night, but I began to sleep throughout the night and woke up more rested," she said.
The Omar Shrine Convention Center will host the 2013 Charleston's Women's Show, which will feature more vendors, continued excitement in celebrating women and two days of visiting with friends old and new. Stay connected at www.CharlestonsWomensShow.com.