LWEM 2013: A Year in Review
A Life-Changing Contest
Back for 2013
We know you've heard sbout the Lowcountry Women's Extreme Makeover contest, and we know that many women read our article in a previous issue of Mount Pleasant Magazine or saw our Facebook page and thought about entering. If you were one of the ones who didn't, mark your calendar to watch this year's winner take all.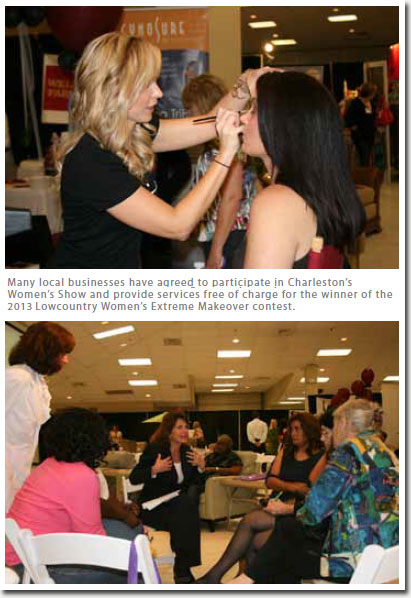 With hard work and dedication, a lucky lady will finally be able to achieve the new outlook on life she has been seeking. Best of all, she doesn't have to worry about the cost of such an endeavor, because many advertisers, dedicated to Mount Pleasant Magazine and the well-being of area residents, agreed to participate and provide the services free of charge for the 2013 winner.
The 2012 grand prize winner, Erika Figueroa of Goose Creek, delivered a poignant speech of appreciation and inspiration at her grand reveal at the first Charleston's Women's Show, held March 3 and March 4, 2012, at the Omar Shrine Auditorium and Convention Center in Mount Pleasant.
"The journey of 1,000 miles starts with a single step," she said of the grueling yet ultimately satisfying 30-day commitment. "It was at my daughter's graduation that I realized I had to change my life. I'm so glad that I took that first step."
The 2013 winner's makeover journey will be chronicled in Mount Pleasant Magazine and in the online version of the publication at www.MountPleasantMagazine.com. Her new look will be revealed on stage at Charleston's Women's Show, scheduled for Feb. 9 and Feb. 10, 2013.
Vendors such as Max Muscle, Boom Fitness, Vanity Salon and the Lowcountry Plastic Surgery Center-Lowcountry Beauty & Wellness Spa are providing the winner with the tools to live a healthier and happier lifestyle.
"The winner this year can expect great support and great outcomes through the many services that we are able to offer," said Michele Hensel, marketing manager and weight loss consultant at the Lowcountry Plastic Surgery Center-Lowcountry Beauty and Wellness Spa. "From skin care to weight loss, to wellness items and more, we help one woman gain back her confidence and bring forth a fresh start in 2013."
"Some people want and need an extreme change, but most women are comfortable with what they know," said Kim Coleman, owner of Vanity Salon in Mount Pleasant. "Showing them how to make simple changes can improve their look, but mostly I want them to have the confidence to know how to make a change to improve their look on a daily basis."
This year's winner will be revealed at Charleston's Women's Show, which takes place on Feb. 9 and 10 at the Omar Shrine Temple. For more information, please visit www.CharlestonsWomensShow.com.